Decision Support Tools for Market Access in Oncology & Specialty Therapeutics
Transforming data into insights & strategies to communicate the right priorities to your team & to customers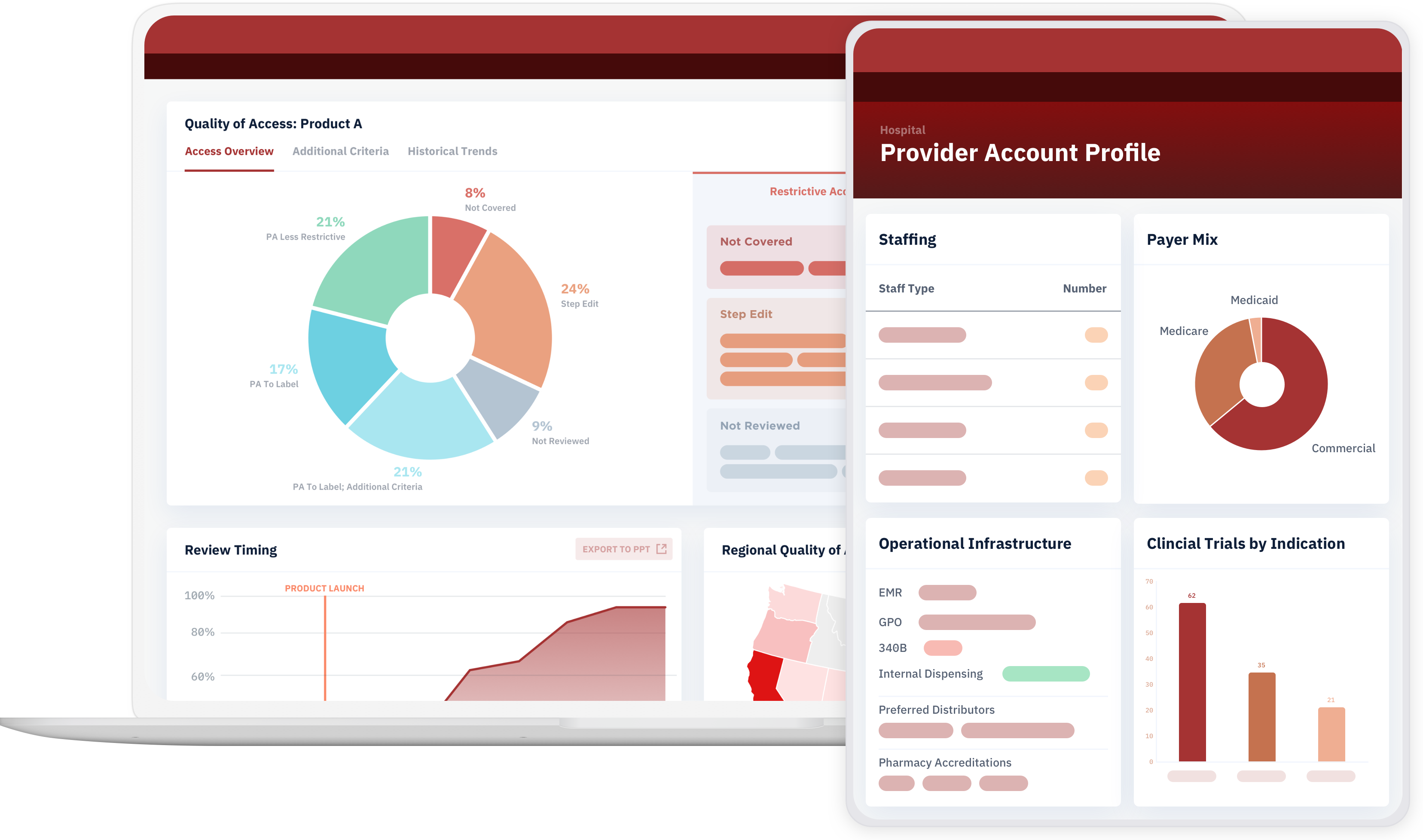 Market Access, Brand/Portfolio & Sales Leadership Planning Tools
The Dedham Group offers and maintains various web-based strategic tracking & key decision support tools that span priority customers & influencers of access and value to support targeted engagement planning.
Traditional Access Priorities
Payer Quality of Access
Develop better strategies to address coverage challenges, as well as focus messages to improve value perception
Provider Key Accounts
Identify provider protocols access & field team engagement priorities
Pathways & Medical Management
Identify 3rd party pathways & oncology medical benefit engagement priorities
Oncology & Specialty Contracting Landscape
Understand & track pricing changes & contracting terms, stakeholders, & pull through approaches for community / oncology GPO, IDN / institution, & payer agreements
Emerging Organizational Monitoring Priorities
Value-Based Care Models
Understand sequencing & emerging value drivers for pathways (oncology brands) & alternative payment models
Medical Benefit Management / Oncology Benefit Management
Understand the rapidly evolving medical benefit management organization space, payer vertical integration roles / responsibilities, impact, & engagement targets
Clinical to Commercial Value Alignment
Identify quality-based insights to support value proposition development
Specialty Salesforce Engagement Priorities
Enhance field force / KAM deployment structure & strategy during / post-COVID-19 crisis to assess appropriate performance metrics & highlight emergin engagement opportunities
Filter "Noise" of Complex, Rapidly Evolving Landscape & Focus on What Impacts Business
The Dedham Group addresses key challenges facing pharmaceutical executives operating in a highly dynamic specialty access & competitive arena, while building & directing teams of various experience levels.
Predictive Analytics
Robust access to historical analogs that inform forecasting & scenario planning
Smart Targeting
Prioritization of key trends, drivers & top accounts vs. "nice to know" details
Strategic Support
Analytical support to aid in translating insights to implications for strategic engagement planning
Expert Validation
Extensive & frequent validation of data by specialized teams & access panel of payers, providers, & emerging access influencers
Organizational Alignment
Efficient communication of customer & influencer changes for leadership briefing, team alignment, & field guidance
Address Key Business Questions at Appropriate Frequency for Leadership Focus & Engagement Execution
Timely, validated information is structured for aggregate management insights & account level engagement planning, supported by live Q&A/review sessions that enhance team fluency & ensure strategic planning focus.
Right Information, Right Time
High-quality information updated regularly & validated via propietary analog dataset precedent & forward looking insights from our expert panel
Channel & Account Level Insights
Structured information to address both aggregate channel emerging priorities & granular account level engagement targets
Live Education & Planning Support
Monthly update review teleconferences provide live Q&A for enhanced team fluency & strategic planning focus areas for execution
Proactive Surveillance & Alerts
Customized alerts via email communicate critical changes identified through proactive market surveillance of key customer/influencer issues
Custom Reporting & Analytics
Strategic Dashboard Toolkit allows users to "build" their own PowerPoint reports and download Excel files for further custom analysis
TDG Strategic Decision Support Tracking Tools
Be more proactive and responsive to emerging specialty market access needs, optimize targeting and resourcing through the lens of value and quality, and support strategic engagement planning to enhance pull-through.
Contact to Request Demo